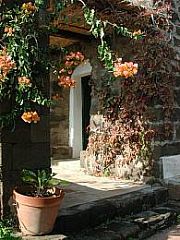 This beautiful dammuso is located on the west side of the island. The owner proudly renewed this place keeping the original structure from the XVIII centruy. Every single details was made with love and you can see it, giving a unique touch to the whole property. A special mention go to the luscious garden that surround the property: a wide selection of succulents, palm trees and bouganvillae make a colorful coreography. The property is made out of three houses, the main one plus two guest houses, spreaded on different levels and a big pool area where you'll spend most of your time... The house provide different sun deck and shaded areas as well. Did we mention the view? Well, that is special too!!
Main house: It is on two floor. The entrance, through a covered patio, leads directly to the living room with sitting rooms on the alcova. Here you'll also find a fireplace, the dining room with table and chairs and, through a door, the kitchen. There is also a door to a backyard with orange trees. The kitchen is also connected to the outdoor patio. From the stair you'll reach the upper level where are located the double bedroom with an en-suite bathroom with shower, a single bedroom and a full bathroom with shower.
Please note: on the ground floor there is a locked room where the owner keep his personal stuff and it is not accesible.
Le Stalle guest house: It is located on the same level of the main house, it features two bedrooms (one with two single beds and the other one with a double bed), a bathroom with shower and an anti-room with a little desk. This house features AC.
Il Sardone guest house: It is located in the lower level of the property near the pool. It has a private terrace, a very large double bedroom with chairs and a little fridge and a full bathroom with shower. Here a french painter friend of the owner personalized the room with some wall-paints... very cool!!!