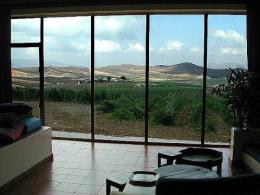 All right, maybe the road that leads you to Spadafora Estate is a dusty road through vineyards and sometime get muddy, maybe when you'll be there the silence of Mother Nature is your daily soundtrack, only interrupted by a cuban salsa from the cellars. Maybe the only human being you can see are workers that are making one of the finest Sicilian wines... but you know, this is why we like it so much. This is a special place for special people that loves to be independent, far from< the "modern" civilization and back to the natural rythm of earth. Location is excellent for touring Western Sicily toward the sea, Greek ruins and small old towns. There are 4 rentals on the Spadafora estate located around the central court, where the cellars and all the equipment are ready to show you all the steps to make wine! On the backside of each of the rentals rolling vineyards remind you the beauty of the place. Once these apatments were the horse's staple. Today they are great rustic houses with a kitchen, a living/dining room with table and chairs and a double bedroom with a great window overlooking the country side. The rentals are spacious, comfortable and they are furnished in a country style and just not to be out of reality a satellite television is provided. Of course you're invited to cook in your kitchen with all the products of the farm: vegetables, tomatoes, olive oil... and wine. Throughout the estate you'll find many outdoors areas for reading or sharing a glass or just simply relaxing doing nothing! Maybe by this summer our friend Mr. Spadafora is going to have a huge swimming pool... it would be too good to be true.
Please note:this is a working winery in the modern sense. Sharing the space are the cellars and the bottling area. Here the workers hustle about making adjustments, checking clarity and keeping the area clean. From mid August untill mid September the winery is involved with the harvest for the new wines, so it could be a great chance to stay at the winery during that time of the year. At night time there is only a guard, the workers do not speak english and there is no telephone (we strongly suggest to rent a mobile phone).
The Spadafora estate is located in the Western Sicily country side. From there you can visit the archaelogical areas of Segesta and Selinunte, hicking through the Zingaro Nature Reserve, swimming in the little hidden bay along the coast of Scopello area or San Vito lo Capo, the best white sandy beach stretch of Western Sicily. Other good excursion are the visit of the cute town of Marsala and Erice...