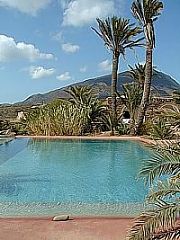 Dammuso Rekhale is an extraordinary villa located in the south-west side of the island overlooking the sea that in the sunset hour will gives you a beautiful storm of colors!
In a clear day, from the house, you'll be able to see Africa so close that if you wave your hand the people over there will do it as well ;-)
And staying at Rekhale you'll feel the African atmosphere all over the place: dozen of Palm trees are spreaded along the huge garden with bright red bouganvillaes, lots of handmade Morroccan carpets design the paths of the garden and then very nice furniture that actually come also from Indonesia.
On the same estate there is the owner's house, a nice man with style very respectful of guest's privacy.

The entrance of the house is through a very big patio that is a very comfortable shaded place for your outdoor meals as a big woodden table with chair is ready for you. From the patio you have the access to the main double bedroom with alcova that we can consider a great suite with its own bathroom due the size of it. This room have another access to a large shaded terrace with great sea view and through another door to the other bedroom with a living area and a double bed in the alcova and, of course, another bathroom with shower. From this room you'll gain the access to the eat-in-kitchen very very nicely done! Just to be clear, the kitchen also has its own entrance from the patio, so the guest that sleep on the first bedroom don't have to pass through the other guest's bedroom.
The last double bedroom is located in another attached part of this main bulding linked through the kitchen but also with its own entrance next to the house's patio.
Here you'll find a very nice living area with an entire glass wall and then several arched doors that lead you to the double bedroom, a bathroom with shower, a reading room and a small kitchenette very convenient for breakfast!
The house is very tasteful furnished with ethnic furniture and the combination of the local architecture and african furniture make this palce hard to leave.
Then a special word on thwe outdoors space: through a rich tropical garden you'll reach a gorgeous swimming pool with a breathtaking view of the sea. Natural rocks and Palm trees become natural elements of this fabulous pool. There is also a great shaded area made of big palm trees leaf where you can keep relaxing with an ice cool drink!
Includes all costs and 2 hours of maid service every day.