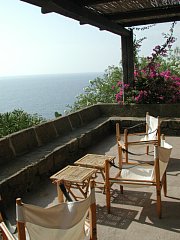 The dammuso is located in the southeast area of the island right on a cliff that drops down to the sea, is like a big terrace and the view is simply breathtaking. This is also the warmest side of the island, as it is exposed south and the owner told us that generally there is a 6°C difference with the north side of the island. So you have the view of the Mediterranean Sea, but how can you get in? Take this: from the house there is a private path, a bit wild with rocks, spontaneous vegetation, but totally walkable 'till a great bay with crystal clear water...the best thing to do as you wake up in the morning!!! What about the house? Well, it is a piece of rare beauties and incredible charme made up by the best architect of the island. Again here essentiality and elegance are prominent and the exterior spaces are enriched with a Tropical-Mediterranean vegetation.
The house is an original Dammuso renewed accordingly to the island tradition and the surrounding environment. As the tradition wants the house is developed in different levels and with some independent bodies. In fact there is a central body with the living, dining, kitchen and a bedroom. Then there is a second one with is own entrance and bathroom (but still connected with the main body through a small and original aisle) that would be a very spacious bedroom. Another part of the house, totally detached from the main body!, is a small dammuso itself, it is totally independent and it is open only in the summer months (June trough Sep). It has a small private terrace, a double bedroom and a bathroom with shower. Dammuso Martingana also features a great covered outdoor area for al -fresco meals and many amenities like dishwasher, laundry machine, big bbq and a wood burning oven.
Main house: entrance into arch-shaped patio (in the summer time the arch-shaped windows are without glass, while in the colder months the glasses are mounted transforming this patio in a great dining room with a great view!), a bathroom with shower, access to the kitchen (in the summer time the kitchen opens onto another kitchen covered with canes) and through a door into the living room. Here you'll find a wood burning stove, the stairs up to the double bedroom with a small private garden, a small door that connects the other double bedroom with a private bathroom with shower (this bedroom also features an independent outdoor entrance). There is also a door to an extremely original and cool outdoor bathroom with shower!!!
Independent "Dammusino" (only from June to September): Small private terrace, a double bedroom and private bathroom with shower.