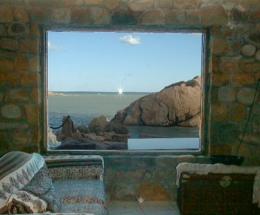 Villa Kalura is located on the coastline of Cefalý. It is set just aside of Villa Chiaramonte, so it joins a wonderful overview of the sea. The rented part is a dependance built by the owner for her daughter, absolutely independant from the main body of the property. You just share the street entrance and the private parking.
The house is developed in two level connected by an outdoor stone-stair. Both levels have an amazing terrace where you can be enchanted by the view. The higher level is the sleeping area : it features a double bedroom very nicely furnished and very very stylish. In fact since the villa has been built practically on the cliff, the owner has used the natural rock as part of the walls, creating a very original interior design. Along with the double bedroom there is another bedroom with two twin beds, that we'd suggest for young couple or for teenagers. Both bedrooms have huge sliding window-doors that allow you to enjoy the view from your bed ( very romantic!). Complete this area a very interesting bathroom with shower: some of its walls are in natural rock too!!! Going downstair you'll find the living/dining area and of course an equipped terrace for your al-frescoe diner. Here you'll find the kitchenette and a big fireplace (sorry it doesn't work). Not to mention that even here a big window is the frame of a wonderful view. Here the interiors are very nice decorated and very tasteful done. In the terrace there is also an outdoor bathroom with shower that can be very useful when you get back from the beach. Likely Villa Chiaramonte, Villa Kalura has its own private access to the pebble beach, making this villa a very very nice place to stay.
Please note: Due the absence of safe-guard in the terraces the villa is not suitable for unguarded kids.
*****************
You love this place but you have a larger party?
No problem. Check out Villa Chiaramonte, few steps away from Villa Kalura. The perfect solution for larger party! Click here to go straight to Villa Chiaramonte