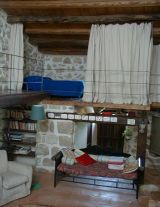 The Villa-Masseria Cacchiamo is a beautiful Historical Sicilian estate. It was built in the XVI century as farm-house - this is the meaning of "masseria", then in the XVII century it was partially reconverted in an aristocratic villa by the Marquis Buongiorno of Gangi. It is located in the heart of Sicily where you can finally realize that Sicily is not just beaches: the countryside of Sicily is simply astonishing and still out-of-the-tourist-path, giving you a truly vision of Sicilian culture. Today two different owners own the estate. Luisa, that owns the bigger part of the estate - our rental of course!, in these latest year was committed in a great conservative-restoration of her property and today it is a great place to stay. It consists of a 160 sq. meters ground floor - the old cellars, and the upper noble floor, with very high ceiling. The ground floor is designed as a big loft with different level divided by arch-stone wall and long curtain. Here you'll find the kitchen, the dining area, the living area with a beautiful fireplace, three bedrooms: 1 double and two singles and two full bathrooms (one with an antique bath-tub and one with shower). There is also the access to a rich garden (about 400 sq. meters) with table for your outdoor meals.From the ground floor through some stairs up is reachable the noble floor consisting of a double bedroom with an en-suite toilette (no shower). The house is very well furnished with antiques. One of the single bedroom, called "la Piccionaia" is a bit small but very cozy. On the other side of the house you can find a big outdoor patio and a lovely private chapel with some frescoes that an Arts lover will find extremely interesting.
PLEASE NOTE: Due the presence of several stairs and levels, the house is not safe for kids and for those with walking problem.
Maid service and private cook is available upon request and at extra charge.
The surroundings are rich in history, archeology and nature. During the Easter time there are a lot of very suggestive religious procession throughout the small villages that surround the area. You can also visit farmers that still make cheese following ancient tradition.