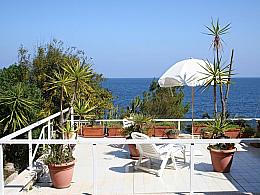 Villa Addaura is a great semi-detached villa in the Mondello area called Addaura where many Sicilians have their summer vacation.
It is a great location because it is few minutes away from the famous fisherman village of Mondello, house of the great white strip of sandy beach and many good restaurants. Not only that, is only 20 minutes drive away from the historycal downtown of Palermo: can you imagine living in an exctiting city like Palermo avoiding the city traffic madness and waking up just in front of the mediterranean sea? You just need to try it...
The house is the upper floor of a two storey villa. The ground floor is occupied by some owner's relative that basically live there only in July and August, but as you know it is just better to stay in the upper floor than in the ground one, right?
You'll have you own entrance, terraces, outdoor living spaces and most important, you'll have your little corner of paradise really three steps away from you terrace: a concrete platform with sunmattress and the clear blue water at your hand!
The entrance is directly onto the large living area with two windowed doors that leads you in the great front-sea cevered terrace, where we can easily imagine you'll spend most of your time. On the right and on the left of this covered terrace you'll have two more small terraces as solarium for your eternal sun bath!
The house feature a small kitchen and this is so far, the only thing we didn't like that much: big, comfortable house, two steps from the beach...we'd have just imagined a bigger kitchen. However the owner is willing to make it better and we believe it!
From the living area you can reach the left and the right wing of this house. Both wings are air conditioned and you'll find two bedrooms each served by one bathroom with shower. So we think it is perfect for two families with kids or just a bunch of friends that doesn't mind to share two bathrooms. Still to promote this nice porperty, the owner decided to offer a reduction for smaller group as 4 people, that in our opinion is the best way to enjoy the villa.
Lastly, we'd like to spend few words about the location: really you are on the beach.
Of course irt is not the same thing having a sandy beach at your hand, but believe us when we say that this house has an amazing location. Basically you'll have your own private piece of sicilian coast and we already imagine the way of waking up in the morning and go swimming before a strolley in the city!